A devoted Business Support Manager in USA
Celine Nuttall is a well experienced Business Support Manager that has been working at NCAB Group since 2010 – first at NCAB Group UK, then NCAB Group France, and now NCAB Group USA.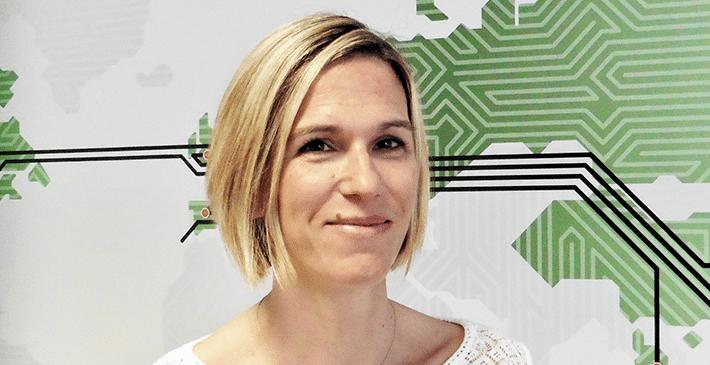 What do you like most about working at NCAB Group?
The values. NCAB Group is a multinational company and yet it does not feel that way. We all work together to achieve our goals, we don't compete against each other and I think this is very unique for such a big Group.
How can you describe the culture within the NCAB Group, and the contact with your colleagues?
I think the culture of NCAB Group is unique. The yearly United kick-off is a great opportunity to exchange experiences, ideas and enjoy time with our colleagues. We are 17 companies all around the world and yet, it does not feel like our colleagues are so far away. They are just one phone call away and there is always somebody you can contact for help whatever the issue might be. When I was being part of the recruitment for the Customer Support team in France, I enjoyed telling potential employees about the ethos of NCAB Group. They all seem to think "it's too good to be true". I love it when they become employee and they realize it is true.
NCAB is a value-based company – how would you say that the values affect your daily work?
I think when you have embraced the values, everything becomes easier. The values are something we have to be proud of and they are a good, simple guide on how we should act in our daily tasks. I have been working with NCAB for quite a few years, so I guess I live the values now. It's part of my job. It's not something I have to keep remembering to do. How I guide the team, how I deal with customers and factories, how I help my colleagues, it's all based on the values of NCAB Group. This is what help us all to work in the same direction, to be the best at what we do.

"We are 15 companies all around the world and yet, it does not feel like our colleagues are so far away."
Celine Nuttall about the NCAB Group culture.
Sustainability is an important part of NCAB´s business – in what way does the sustainability work affect your daily work?
Sustainability affects our daily work in lots of aspects. Working in a good environment, working with ethical factories that meet the requirement of ISO26000 makes it easier. We can be proud of the products we are selling and be proud to come to work in such a nice environment. We are what we sell to our customers. It makes it so easy to talk to our customers about NCAB Group. Competition is hard out there and this is sometimes difficult to make understand potential customers that we sell a "total cost" not a "price". Sustainability is becoming an important part of today's business and hopefully more and more customers will come to NCAB for advice like we have seen already.
How would you say that your work makes a difference for the NCAB customers?
I have worked for NCAB Group since 2010, so I have a really good knowledge of the company and PCB industry and am also able to guide and help my team to find the best solution for our customers. I know what we are able to do for our customers but I am also able to recognize what we should not do – we have to believe in our offer, and I believe we really do that.
As I have mentioned above, we work in a competitive market with demanding customers who all have their needs so it's important to be fast if we don't want to be last, therefore it's really important to be able to find the best offer and solution, quickly that will work for both the customers and NCAB Group.
How do you see your next step within the NCAB Group?
I am currently on my next step within NCAB Group. After having the opportunity to move from NCAB Group UK to NCAB Group France six years ago, I have now moved to NCAB Group USA. I am really excited about this new challenge. It's a big market and it's going to be a great opportunity to work with the new colleagues I have already met at the kick offs and develop my knowledge even more.
Meet our employees