NCAB Group UK has been presented a top supplier award from Speedboard Assembly Services
The award was presented in recognition of NCAB's professionalism, their outstanding relationship management, and the extraordinary service they provide to Speedboard.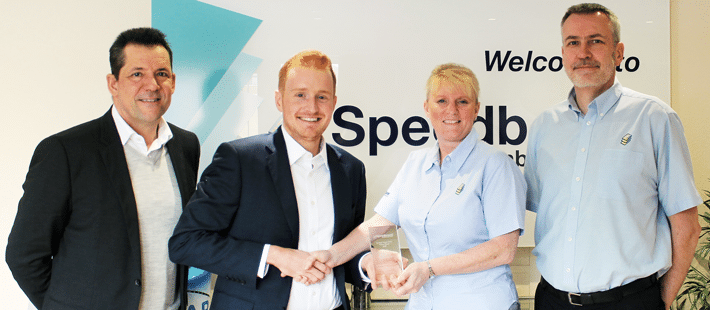 Left to right: Howard Goff, Managing Director, NCAB Group UK; Ryan Pellow, Global Account Manager, NCAB Group; Karen Heath, Supply Chain Director, Speedboard Assembly Services; Neil Owen, Managing Director, Speedboard Assembly Services
Neil Owen, Speedboard's Managing Director comments: "The strategic importance of supplier relationships cannot be underestimated. Strong supplier relationships, enhanced by mutual understanding of each other's business and operating models, can deliver competitive advantages to both parties. I'd like to thank NCAB for their unwavering professionalism. Their commitment to excellence, innovation and collaboration are crucial to our mutual success."
Howard Goff, NCAB Group UK Ltd's Managing Director says: "NCAB is a value-based company, we believe that it is crucial to build strong relationships with the customers we work and interact with. We take a transparent and honest approach which in turn builds honesty, loyalty and trust. We are delighted to receive this award from Speedboard in recognition of our strong partnership."
For more information contact:
Howard Goff
howard.goff@ncabgroup.com
Phone: +44 1380 736142
Our latest news
Learn all about the sustainability work carried out in our factories.
READ MORE »
On the 16th November, we released our Interim report for January – September 2018.
READ MORE »
The public Chinese New Year holidays 2019 are February 4th through to February 10th. We have made a list of a number of proactive measures to think about to avoid disruption in your production.
READ MORE »