Customer Relations
Based locally, we are able to offer competitive terms, quality and delivery assurance that broaden your production possibilities. Working from a single point of contact gives you access to all types of PCBs. Irrespective of location, the NCAB Group supports all technical requirements from prototype through to volume. We can transfer PCB deliveries between the NCAB companies that have the closest location to your production sites.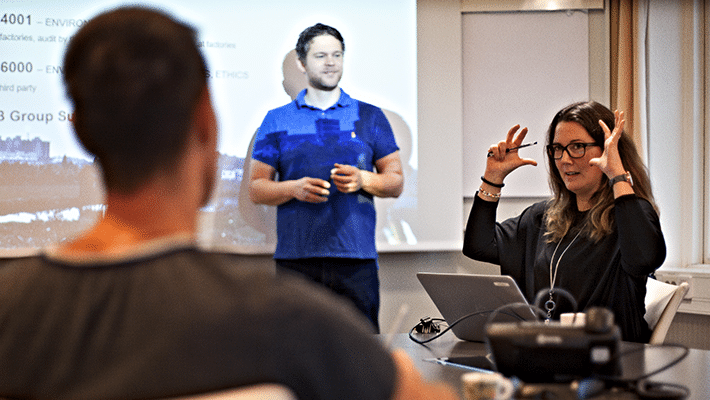 Anders Fält, Account Manager, Tommy Kallberg, Key Account Manager and Margaretha Berg, Account Manager. All belonging to NCAB Group Sweden.

Local devotion with global strength
The NCAB Group is a highly decentralised organization with a centralized Group Functions support unit. Every local company is highly cost-efficient thanks to centralised functions, which enables them to focus on your operation and products. Every company within the NCAB Group is financially independent, responsible for its own profit and loss, which gives you a high level of commitment. All companies use the same Enterprise Resource Planning system (ERP) with the same processes. We learn from each other's successes and mistakes, and share common processes and procedures. Group Function is responsible for factory development, logistics, management of quality systems, marketing and financial management.

LOCAL ORGANIZATION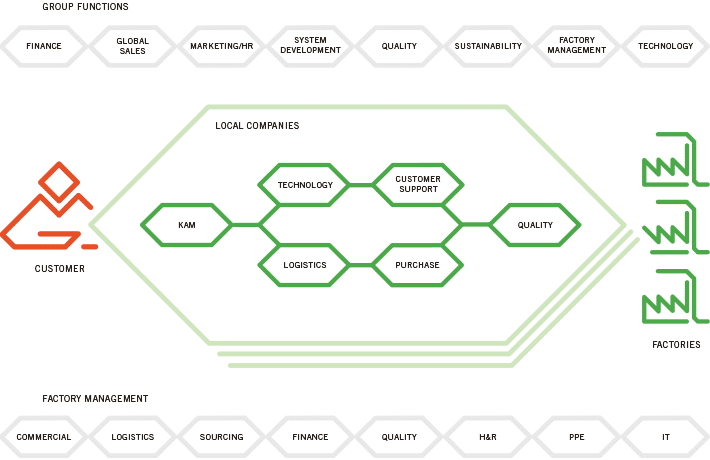 DESCRIPTION OF OUR LOCAL FUNCTIONS
KAM
Develop close customer relationships and gain new business
Arrange/participate in customer meetings
Project management, using internal resources in technology, logistics and purchase to provide optimised service and solutions
Make customer calls and draw up agreements
Develop customer account plans and ensure their implementation
Develop relations between all levels (quality, technical, purchase) at customer and the NCAB Group
Ongoing analysis the of markets and competitors
LOGISTICS
Track deviations in production and adjust to meet customer demand
Communicate daily with our logistics partners
Assume responsibility for deliveries to customers from local warehouses
Inform customers and take action if there is a deviation in the delivery
Choose the right freight solution for the customer (express freight, etc)
PURCHASE
Place purchase orders with the factories
Obtain the right price from our factories
Negotiate prices with factories when customer demands deviate from set price matrix, e.g for special projects, different volumes, etc.
Negotiate lead times with factories to meet customer requirements when demands deviate from the standard conditions
TECHNOLOGY
Visit customers with the Key Account Manager to provide technical support
Provide technical support on design, material selection, build up, surface treatments, advanced DFM and advise on design rules.
Maintain standards and quality systems such as IPC, UL, etc.
Initiate internal and external seminars to increase competence levels
Advise Key Account Manager and Customer Support team about advanced products to enable best fit factory selection
Verify customer procurement documentation
Provide IPC advice to customers
Check customer data packs for manufacturability
Create NCAB global specification / panel drawing and verify customer procurement documentation against factories' detailed capabilities
Manage engineering queries (EQs) raised by the factories following full Design Review Check (DRC) of customer gerber data and specification
CUSTOMER SUPPORT
Manage customer accounts together with the Key Account Manager
Compile customer quotations and load orders
Handle the daily communication with customers and our factories, to keep customers fully updated during the manufacturing cycle
Based on customer requirements, find the best factory through benchmarking
Place orders
QUALITY
Handle claims, investigate faults, find solutions, communicate with factory and customer, produce reports
Follow up on CAR (Corrective Action Report)
Analyse claims
Handle internal claims (8D report)