Customers: High goals for quality and reduced environmental impact
We cooperate closely with our factories on environmental and quality issues, to constantly improve our performance. We strive towards zero defects and to steer the sector in a green direction. These are high ambitions and we want to involve our customers more in sustainable product development.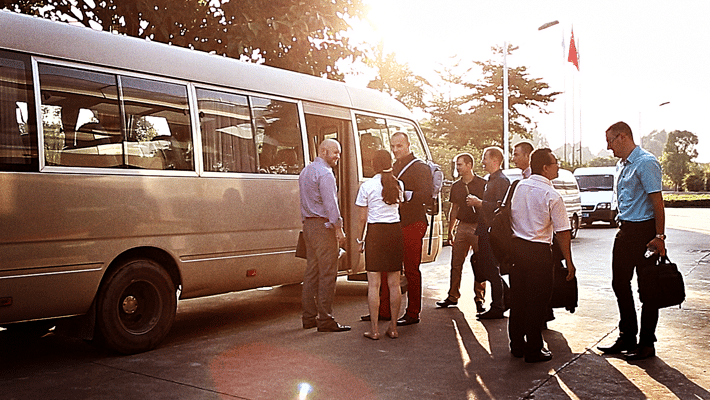 Michal Kopcewicz, MD NCAB Group Poland with colleauges and customers on a production insight trip to China.
Long Term Goal
To steer the sector in a green direction.
MEASURABLE GOAL
Top scores in customer satisfaction including sustainability.


ACTIONS 2016

Conducted customer satisfaction survey. Result: Customer Satisfaction Index: 82 (bench 70).
Externally verified self-declaration covering social responsibility SIS-SP 2:2015 which is based on ISO 26000, with excellent result.
Continued communicating our sustainability work to our customers.

GOING FORWARD

Customer Satisfaction
Index – target 2017: 83
Act on the improvement areas from the survey, such as prototype offer, and propose more solutions to develop the customer's business.
Keep on communicating about our sustainability work through seminars and other channels.
Continuously reduce environmental footprint.


ACTIONS 2016

Focused in depth on the chemical handling in our sustainability audits, resulting in improvements.
New rail transport route - from Suzhou to Moscow. Volume carried by train increased.
Continued developing our quality processes and performance to minimize scrap.
Developed and released our design guidelines.

GOING FORWARD

Attract more end-customers to our seminars to inspire and support in sustainable product development.
Communicate the environmental impacts of different transportation alternatives to enable our customers to
make informed choices.
Inform our customers about the sustainability and environmental value of cooperating at the design phase.
*Status December 2016
not started/far from reached
on track
completed/on track