IMS – Insulated Metal Base PCBs
NCAB has approved factories that are specialists in this field, with plants dedicated to IMS products, supporting sectors including automotive, medical, aerospace, lightning applications and industrial controls. IMS PCBs is a segment that is growing rapidly and our spend is increasing month by month.
Please
contact
your local NCAB Group company if you need further information or assistance, we are happy to help you.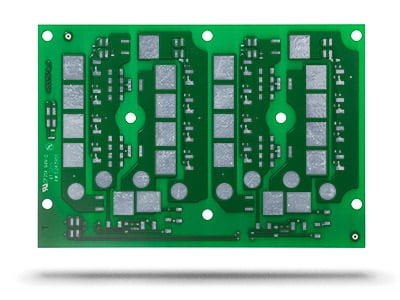 MPCB – materials: Bergquist/HT-07006 A1:5052; solder mask: Tamura/DSR-2200 TT 31DX; board thickness: 1.85mm +/- 10%; copper thickness: 3oz; surface treatement: LF HASL; description: power products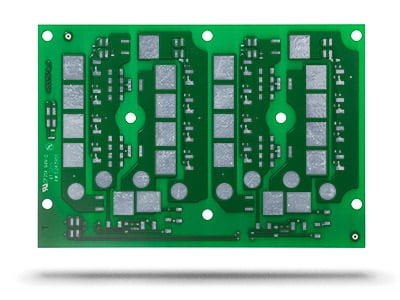 MPCB – materials: Bergquist/HT-07006 A1:5052; solder mask: Tamura/DSR-2200 TT 31DX; board thickness: 1.85mm +/- 10%; copper thickness: 3oz; surface treatement: LF HASL; description: power products
IMS PCBs - Technical specification
DOWNLOAD SPECIFICATION (PDF) »
| | |
| --- | --- |
| Feature | NCAB´s technical specification |
| Number of layers | 1 - 4 layers |
| Technology highlights | Effective heat sink solutions for thermal applications. This construction type enables superior heat dissipation through use of either aluminium or copper substrate bonded to the insulated circuitry through thermal pre-preg or resin systems. |
| Materials | Aluminium & copper plates. FR-4, PTFE, thermal dielectrics. |
| Dielectric thickness | 0.05mm - 0.20mm |
| Thermal conductivity | 1-4 W/m/K |
| Profile method | Punching, Liquid cooled routing |
| Copper weights (finished) | 35μm - 140μm |
| Minimum track and gaps | 0.10mm / 0.10mm |
| Metal core thickness | 0.40mm - 3.20mm |
| Maxmimum dimensions | 550mm x 700mm |
| Surface finishes available | HASL, LF HASL, OSP, ENIG, Imersion tin, Immsersion silver |
| Minimum mechanical drill | 0.30mm |