Key Account Management
Our business is only PCBs. This focus puts us in the highly advantageous position of being able to continually develop simpler, better and more cost-effective designs and production solutions. KAMs have responsibility for the entire supply chain cycle, which include delivery on time, product quality and service. We tailor technical and commercial solutions for every customer ensuring the best collaboration and control in the factory, producing PCBs at the lowest total cost.
Local point of contact
Having a local point of contact creates significant customer benefits. The Key Account Manager (KAM) serves as your major point of contact, central to the team of customer support, engineering and logistics specialists. The KAM ensures parallel interaction at all decision-making levels, creating a common understanding of customer requirements – a basis for achieving the required quality and delivery accuracy. For support, the KAM interfaces with our team of global group function specialists.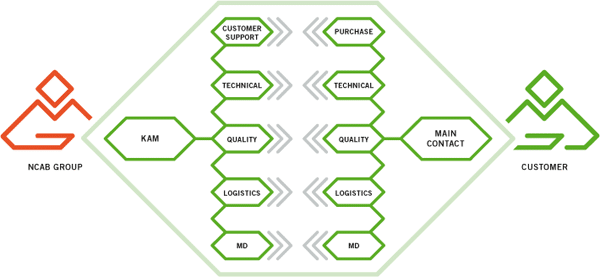 Your local NCAB team provides fast and accurate responses in local language and time zone, enabling fast decision-making. This enables time saving, accurate communication, and consistently high quality.
All our expertise at your disposal
The NCAB Group facilitates customer-specific seminars covering different topics including HDI, cost drivers, quality systems & standards, smart designs, raw material options & selection, the impact of global factors on PCB production, as well as updates on technical & industry trends.
Your KAM is also responsible for arranging customer visits to our factories in Europe and China, where you can meet the factory management teams, decision makers, quality & technical teams and the operators who produce your PCBs.
With a team of more than 35 technical support staff employed within the NCAB Group, the local country engineering teams are supported by a central global team of 15 engineers, many with extensive PCB production experience.