Together towards sustainable production
We do not own any factories, but we carefully choose our long-term partners and work closely with them to maintain and develop sustainable business. We work together to improve health, safety and working conditions, and environmental responsibility.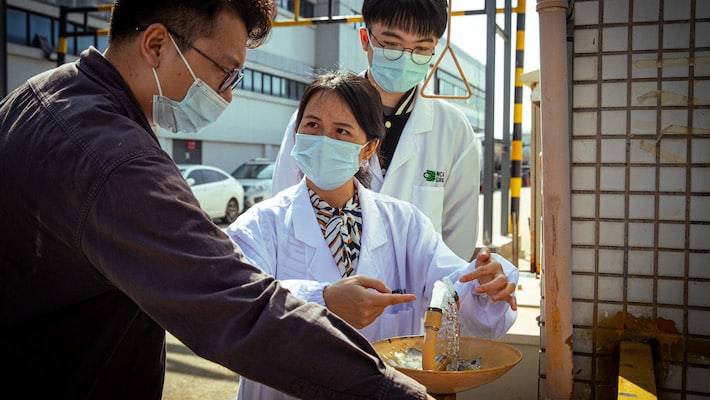 Commitment
Take full responsibility throughout the supply chain.
Measurable goals
100% sustainability-audited and approved main factories
Continuously improve sustainability performance throughout the supply chain.
Increased energy efficiency and use of renewable energy in PCB production
Environmentally appropriate materials used in production and in products
Actions and achievements 2022:
In 2022, conducted 17 full sustainability audits (whereof 2 in potential factories), and 10 follow-up audits
100% sustainability audited main factories
Continue our sustainability audit programme in factories, improving factories' conditions of health and safety, and working conditions, and environmental performance.
High quality performance – 99.6% – continued developing our quality processes and performance to minimize scrap.
More data was collected in Scope 3. Dialogue and activities started with the main factories to jointly strive to reduce emissions in the value chain. Focus set on improved energy efficiency and increase of renewable energy, and waste reduction.
Status December 2022
not started/far from achieved
Best-in-class factories only
We work with our factories in long-term partnerships. As part of NCAB Group's sourcing process, potential factories are assessed from a quality and environmental perspective, and since 2015 sustainability performance is also a part of the approval process. Our audits take place on site. In addition to this all our factories have to:
be ISO 9001 certified (quality management system)
be ISO 14001 certified (environmental management system)
sign and comply with NCAB Code of Conduct for Suppliers
report on conflict minerals and cobalt according the framework provided by the Responsible Minerals Initiative (RMI) and follow the Responsible Minerals Assurance Process (RMAP)
comply with legislation covering raw material content (RoHS, REACH, TSCA, California Proposition 65, POPs (Persistent Organic Pollutants))
comply with local regulations covering social compliance and environmental impact
For more information download our sustainability report.
Code of conduct
During 2009 we implemented a Code of Conduct which forms part of the contracts we have with our factories, revised in 2017. The requirements in the code are inspired by the ten principles of the UN Global Compact and cover:
Business ethics and principles
Labor and working conditions
Environmental responsibility
NCAB expects all of our suppliers to follow our Supplier Code of Conduct. For more information, download the NCAB Group Code of Conduct for Suppliers.