Supply chain – Together for sustainable production
We do not own any factories, but we carefully choose our long-term partners and work closely with them to maintain and develop sustainable business.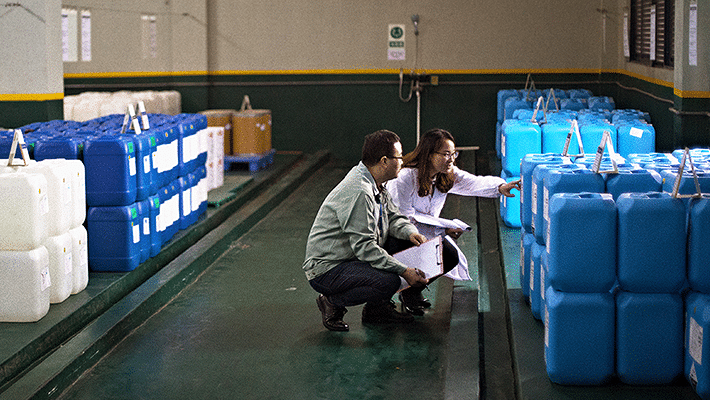 Jenny Zhang, Sustainability Manager NCAB Group China, checking chemical handling and storage during a sustainability audit in factory.
Long Term Goal
Take full responsibility throughout the supply chain.
MEASURABLE GOAL
100% sustainability-audited and approved factories by 2018.

Continuously improve sustainability performance throughout the supply chain.


ACTIONS AND ACHIEVEMENTS 2018:

In 2018, conducted 18 full sustainability audits (whereof 6 in potential factories), and 9 follow-up audits
In total, 24 of 24 of our main factories' manufacturing sites audited. Target of 100% sustainability audited factories reached.
Sustainability audit programme up and running
Added more resources for sustainability work and audits in China, since Jan 2018, one Sustainability Auditor joined the team.
Read more about the key findings and achievements in our Sustainability Report.
Status December 2018
not started/far from reached
on track
completed/reached
Best in class factories only
We work with our factories in long term partnerships. As part of NCAB Group's sourcing process, potential factories are assessed from a quality and environmental perspective, and since 2015 sustainability performance is also a part of the approval process. Our audits take place on site. In addition to this all our factories have to:
be ISO 9001 certified (quality management system)
be ISO 14001 certified (environmental management system)
report on conflict minerals according the framework provided by the Responsible Minerals Initiative (RMI) and follow the Responsible Minerals Assurance Process (RMAP)
follow EU legislation regarding raw material content (RoHS and REACH)
comply with local regulations regarding water quality and emissions to water
sign and comply with our Supplier Code of Conduct
NCAB Code of conduct
During 2009 we implemented a Code of Conduct which forms part of the contracts we have with our factories, revised in 2017. The requirements in the code are inspired by the ten principles of the UN Global Compact and cover:
Business ethics and principles
Labour and working conditions
Environmental responsibility
NCAB expects all of our suppliers to follow our Supplier Code of Conduct. For more information, download the NCAB Group Code of Conduct for Suppliers.
DOWNLOAD »
For more information about our sustainability work, download the NCAB Group Sustainability Report.
DOWNLOAD »