Carol Ouchakoff interviewed in Electronique Mag
Carol Ouchakoff, Managing Director for NCAB Group France talks about NCAB Group´s way of working in French tech magazine Electronique Mag.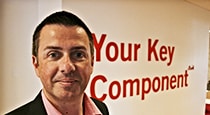 In the interview, Carol Ouchakoff speaks about our quality assurance work, about how we work with our factories, the types of PCBs NCAB Group produces and a lot more.
Our latest news
Learn all about the sustainability work carried out in our factories.
READ MORE »
On the 16th November, we released our Interim report for January – September 2018.
READ MORE »
The public Chinese New Year holidays 2019 are February 4th through to February 10th. We have made a list of a number of proactive measures to think about to avoid disruption in your production.
READ MORE »