NCAB Group Lab
Our factories conduct rigourous quality and reliability tests prior to dispatch. However, The NCAB Group continues to take ownership of the qualification and release of products be this during volume supply or during our procurement and factory qualification processes.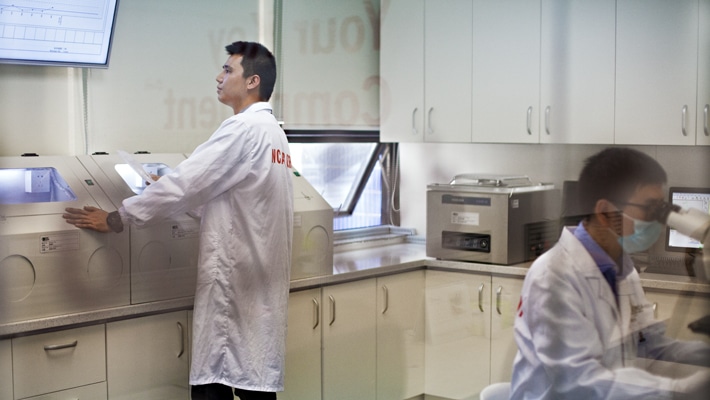 Andy Dai (standing) and Star Ye, Lab Technicians at NCAB Factory Management working in the NCAB Group lab at the Chinese office.
NCAB's Laboratory evaluates and supports a comprehensive first article inspection process and assures that the products we are receiving are as ordered. NCAB can also carry out root cause analysis of both assembled or bare boards should this be required, without the need or the additional time involved in sending boards back to our factories for analysis. This allows us to quickly grasp any issue and feedback to the factories quickly and accurately.
The NCAB Group make use of the following equipment:
ZEISS metallurgical microscope
ZEISS stereo microscope
Mantis stereo inspection microscope
Oxford Instruments CMI900 XRF material thickness and composition checker
Hakko FX"301B solder pot/bath
Twin table micro"sectioning unit
The level of detail and analysis available from NCAB´s internal qualification and release checks can be seen in the template below.