Semi-Flex PCBs
Semi-flex PCBs often can function as a more than adequate solution for certain more advanced applications, while manufacturing is less complicated. Often, it's a way that combines the best of both worlds. You can bend the board one time to fit the finished product, while not complicating things unnecessarily by laying on a higher level of technology than necessary.
You can always contact your local NCAB Group company if you need further information or assistance, we are happy to help you.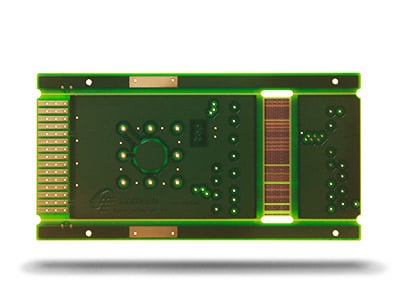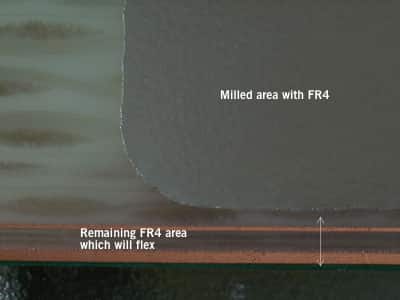 | | |
| --- | --- |
| Feature | NCAB´s technical specification |
| Number of layers | 1 – 12 layers, with 1 – 2 conductive layers in bending area. |
| Technology highlights | The process uses controlled depth routing of the FR-4 to achieve a flexible / bending section within a traditionally rigid FR-4. Only suitable for static operations – bends typically just for installation. A lower cost solution for some very specific "flex-to-fit"applications. |
| Bending performance | 50 x bend cycles of 0° – 90° – 0° |
| Bend features | 5mm radius / max bending angle 90° |
| Materials | Specialized FR-4 for static flex applications |
| Copper weights (finished) | 35μm |
| Minimum track and gap | 0.075mm / 0.075mm |
| PCB thickness | 1.00mm – 2.00mm |
| PCB thickness in flex section | 0.25mm ± 0.05mm |
| Maxmimum dimensions | 538mm x 610mm |
| Surface finishes available | HASL (SnPb), LF HASL (SnNiCu), OSP, ENIG, Immersion tin, Immersion silver, Electrolytic gold, Gold fingers |
| Minimum mechanical drill | 0.20mm |
| Minimum laser drill | 0.10mm standard, 0.075mm advanced |
What is the difference between semi-flex and rigid flex?
Semi-flex is effectively a 'standard' multilayer PCB, built using specific types of FR4 that has been depth to a specific tolerance so that the resulting thinner area provides a flexible / bending section of the traditionally rigid FR4. Semi-flex is suitable for static applications (flex to install), or with very limited number of bends.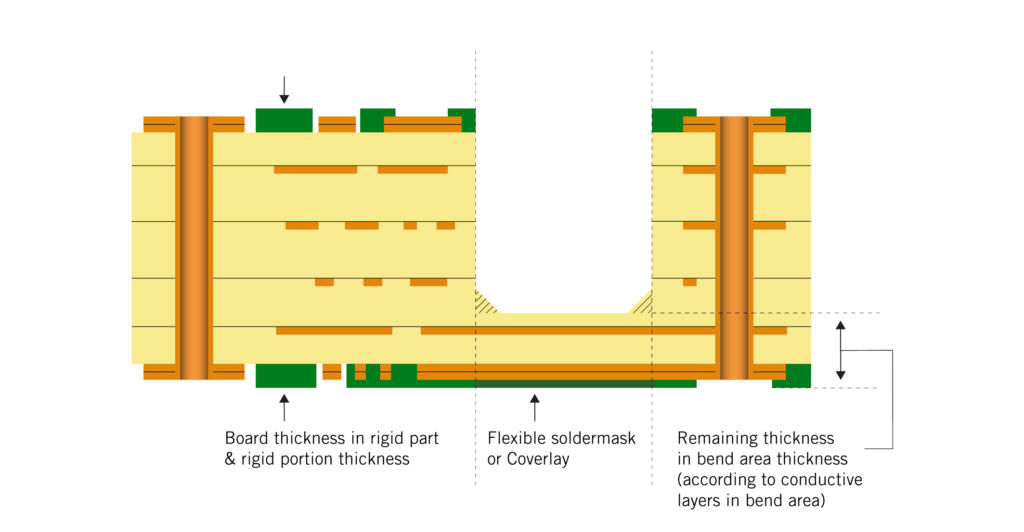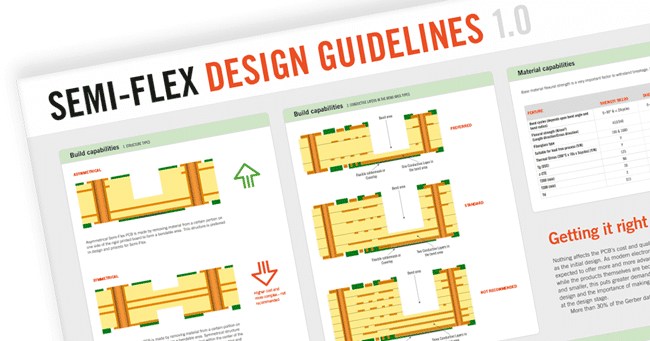 Download our design guidelines for Semi-Flex PCBs
To prevent getting it wrong from the start, we have put together our design guidelines, to use as a checklist.