What drives the cost of a circuit board? And how do those factors in turn impact the sustainability? We have found that the majority of the cost – 80-90% – is built into the product in the early stages of the design phase. We have also found that many of the PCB cost drivers directly impact all aspects in producing and delivering a more sustainable product.
To avoid large cost drivers we have developed a tool that can support you. Download it for free here.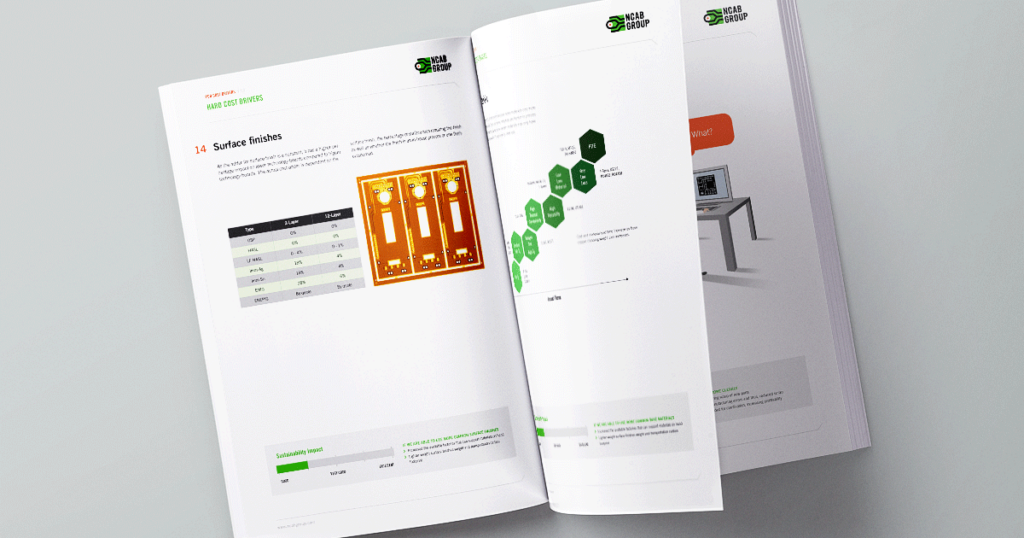 We have divided the circuit board cost drivers in two categories; "hard costs" and "soft costs". The hard cost drivers are covering aspects that relate to the physical printed circuit board itself. Examples being copper weights and build complexity. In these cases the impacts on cost and sustainability are more tangible. The soft cost drivers are those elements that unless considered can lead to delays in engineering, lost time and mis-specified demands that only serve to either drive cost upwards or fail to identify what is needed to achieve the desired quality or long-term reliability – this is not sustainable PCB production in our eyes. In our Sustainability Impact meter you can see the possible effects for each cost driver.
Example of a PCB cost driver:
The PCB size
This is one of the very simplest drivers to understand, just as with real estate – the larger it is, the more it costs. And aside from simply the use of more material, we need to consider:
Should a defect occur in a smaller circuit, the remainder of the panel can still be acceptable for production
When a defect occurs in a larger circuit a larger portion of raw material is discarded
Environmental impact of material demand, less material = lower environmental impact
Sending... Please wait as this can take a while...
Access our PCB cost drivers
To access our PCB cost drivers as a PDF, please complete the short form below.
Your contact information will be saved and will be used to send a link to the page where you can download PCB cost drivers. The email address you have provided may be used to send you information we think you may find interesting. Your contact information will only be used by NCAB Group. By clicking on "Send" you will be agreeing to this. For further information about how NCAB processes your personal information, please see our Privacy Policy.