Sustainable business
Sustainable business
– our responsibility
Our focus is on creating value for our stakeholders and taking responsibility throughout our value chain. This approach helps us to identify opportunities to drive positive change and minimize negative impact. Together with our suppliers and customers we want to create a more sustainable industry with growth and profitability for all. We believe that strong relationships and transparency are key to achieving this.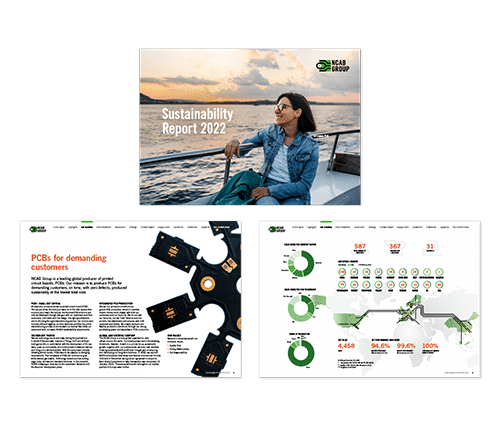 Our sustainable business – learn more in this video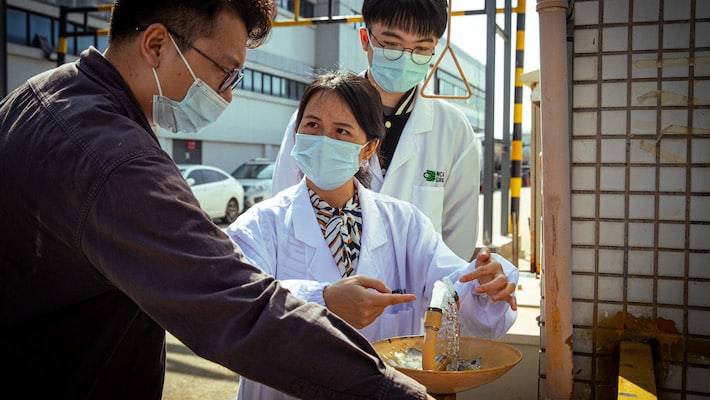 Supply Chain
Full responsibility throughout the supply chain.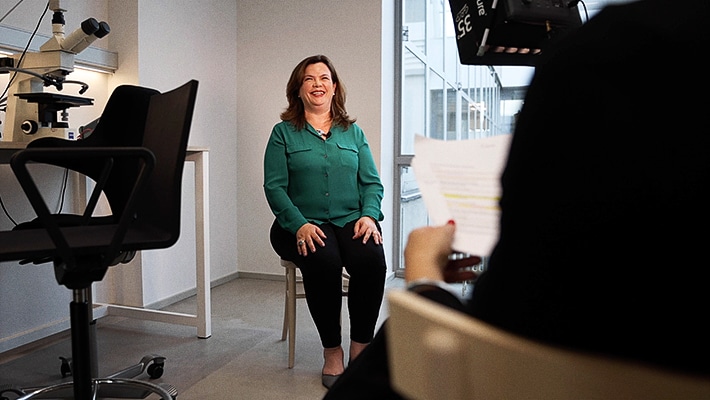 Employees
Attract, engage and develop the best people.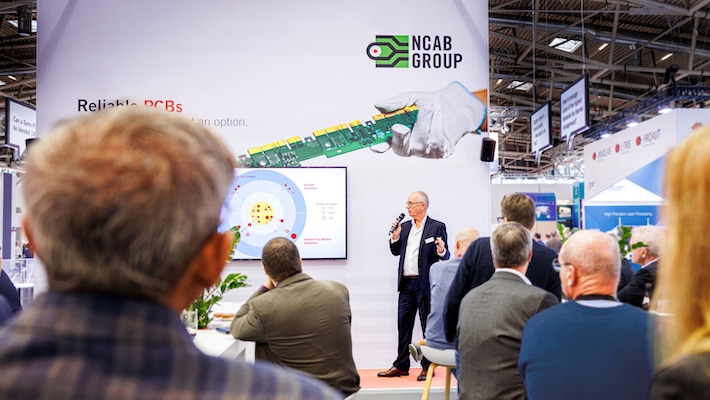 Customers
Steer the sector in a green direction.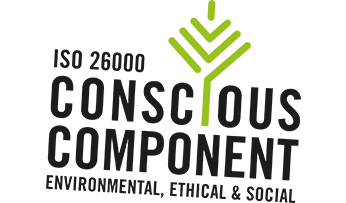 This is the symbol for all our sustainability work. It incorporates the vital dimensions of ISO 26000, i.e, environmental, ethical and social and demonstrates that we take full responsibility in everything we do.

Guided by our sustainability strategy
Sustainability achievements
Our vision is to be "The number 1 PCB producer wherever we are". In 2022, we continued our challenging and important sustainability journey together with our customers, factories and employees. Here are some examples of our actions and achievements during that year:
Implementing our updated our sustainability strategy
Climate impact mapping to set action plan and targets for reduction of GHG emissions
Continued our sustainability audit programme in factories
Improved factories' conditions on health and safety, and working conditions, and environmental performance
High quality performance – 99.6% – continued developing our quality processes and performance to minimize scrap
Continued focus on employee competence development, specifically sales, technology and onboarding of new employees
Customer seminars and internal training continued online, reaching out to more customers and employees
Our employees around the world contributed to society with their Give Back Day
26 webinars and seminars and 1500 participants – Design for Manufacturing, Sustainability, Quality assurance and more – our experts sharing our knowledge and expertise to support sustainable product development
Continued supporting customers in the design phase – design guidelines for different types of PCBs available for download on our website
Technical Council established – for technology leadership and a more sustainable PCB
Climate impact – targets and activities set to reduce greenhouse gas (GHG) emissions in Scope 1 and Scope 2.
More data was collected in Scope 3. Dialogue and activities were started with suppliers and customers to jointly strive to reduce emissions in the value chain.
99.6%
High-quality performance
100%
Sustainability audited main factories
92
Score for sustainability in customer satisfaction survey
84
Customer Satisfaction Index
87
Employee Engagement Index
All our sustainability documents
Code of conduct, ISO, REACH, RoHS, TSCA and Conflict Mineral Policys.

Curious about our sustainability work?
Don´t hesitate to contact us if you would like to know more about our sustainability work.
NCAB Group whistleblower function
If employees of NCAB Group or other stakeholders discover serious irregularities or misconceptions that violate our Code of Conduct, we want them to feel confident about reporting this. We have thus set up a whistle blower function, involving an external party to whom employees can turn. Their issue is then anonymous and passed on to the NCAB Group's investigative function.