NCAB Group Finland joining a virtual Business 2030 event
In 2015 the UN General Assembly formally accepted a new set of 17 measurable Sustainable Development Goals (SDGs) ranging from ending world poverty to achieving gender equality and empowering women and girls by 2030.
For the goals to be reached, everyone needs to do their part: governments, the private sector, civil society and people like you. Therefore FIBS – Finland's leading corporate responsibility network is hosting a virtual Business 2030 – bulletin board, where people from different companies, non-governmental organizations, universities, research institutes etc can share and receive knowledge, experiences and different kind of business opportunities regarding these sustainability goals.

This virtual event is available for everyone for free of charge. Spoken language is Finnish but people can also start new conversation in English as well. NCAB Group Finland together with companies as Finnair, OP Finance group, Plan International Finland and WWF Finland were asked by FIBS to be the godparents/moderators of this whole event. The opening of the event was held in 4.9.2017 and will continue during September and October. The godparents have opened several discussions regarding different points of sustainability in business life and the conversations are running actively.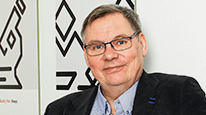 Each of the moderators have also their own live chat time and NCAB Group Finland's managing director Kim Fagerström will held his own live chat on Thursday 5.10.2017 at 10am-11am.
Kim's topic is "The point of view of an international middle size company towards business that improves the sustainability" He will discuss about issues like whether middle size companies have any possibilities to improve the sustainability in their daily business, why should the companies be interested in business methods that will improve the sustainability and what kind of challenges they might come across while implementing the sustainability as part of their business concept.

You can sign up for this Finnish based forum here »
Our latest news
Learn all about the sustainability work carried out in our factories.
READ MORE »
On the 16th November, we released our Interim report for January – September 2018.
READ MORE »
The public Chinese New Year holidays 2019 are February 4th through to February 10th. We have made a list of a number of proactive measures to think about to avoid disruption in your production.
READ MORE »