Quality Assurance
The aim of the NCAB Group's quality assurance work is a zero defect product with on time delivery. In order to achieve this we work both pro-actively and re-actively. This approach is standardised and carried out by the Factory Management organization.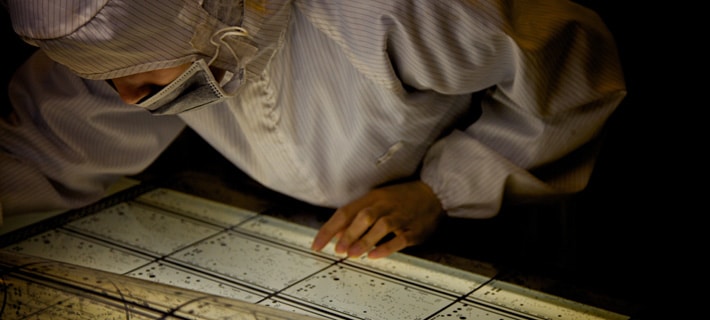 Pro-active Quality Assurance
NCAB PCB requirements (IPC) – Product control

Our requirements specification is based on IPC standards IPC 6012 rigid PCBs, IPC 6013 Flex, IPC 6016 hdI with some additions. Acceptance requirements are in accordance with IPC 600.
Examples of requirements in additions to IPC:
Copper thickness on hole walls (IPC class 3)
Build-ups flex-rigid PCBs
Peelable mask
Factory production – process control
All of our factories are ISO 9001 and ISO 14001 certified. We monitor factory management systems as part of our audit.
IT'S ALL ABOUT THE AUDIT……
Annual audit

Our annual audit covers eight different areas:
Quality and environmental management systems
Sub supplier management and material sourcing
Material and warehouse management
Production processes and process control
Order, delivery and warehouse control
Complaints handling process
Production Facility – maintenance, machines, lab, etc
Automotive
In the event of deviations, the factory implements corrective actions, which are then followed up by the NCAB Group on site.
Mini-audits
Once a month we focus in detail on 1–3 production processes. e.g. surface treatment, solder mask process or drilling. If we detect deviations, the factory implements corrective actions, which are then followed up by NCAB Group personnel on site.
Factory meetings
We hold monthly factory meetings at our main factories, where we review delivery, quality and service performance. We follow-up corrective actions on site and share news about what is happening within the NCAB Group and at the factory.
NCAB Group Shop-in-shop

We now have our own full time quality engineer, based at the factory production line which gives us full local control to oversee our orders as they are being produced right up to and including the final quality control and packaging stage. Our QC engineer ensures that our PCBs are manufactured according to our specifications and if any deviations occur, he can ensure that they are rectified.
At our main factories there are Customer service, preproduction engineering (PPE) and Final Quality Control (FQC) teams dedicated to handling, preparing and controlling NCAB Group orders.
We have a Factory Supervisor for each of our main factories. At the factory, the Factory Supervisor takes part in monthly meetings, audit follow ups, mini audits, annual audits, follow-up of related corrective actions, implementation of specific customer demands, as well as miscellaneous issues and meetings that may be called to discuss production, complaints, delivery, price issues, new projects etc..

Re-active Quality Assurance
Delivery and quality statistics
Tools for checking and analysing trends to enable appropriate action to be taken on relevant matters. We record delivery precision statistics weekly and monthly. Quality statistics are reported on monthly.
Service feedback

Our local companies provide feedback about how the factory has performed (service). This evaluation is made through a questionnaire, grading the factories for various parameters. If a factory has a low score, improvement initiatives are agreed & introduced which are then followed up by NCAB Group personnel at the monthly meetings.
CAR follow ups in the factory
A Corrective Action Report, is drawn up for each complaint. Implementation status is also checked.