Why should we create a better future?
One of the main reasons for NCAB´s sustainability work is to create a better future. Not only for ourselves, but also so the next generation can enjoy the things we can, whether it is diving, picking berries, hiking or just taking a walk in a park.
As a step in our work in being a sustainable company, we asked our employees what they want to preserve to future generations. Their answers became the topic for our latest advertising campaign.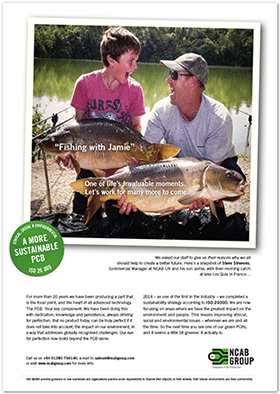 With this campaign we want to show that sustainability concerns all of us, both professional and private. Employees of NCAB Group have taken the pictures in the adverts.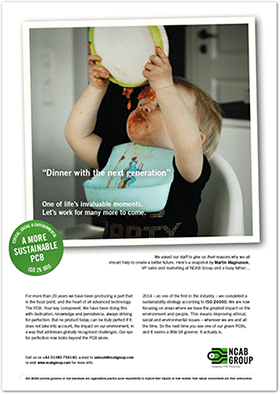 READ MORE ABOUT OUR SUSTAINABILITY WORK »
Our latest news
Have you ever had a question at a meeting, but you look around the room and none of your colleagues seem to be asking it – maybe you're supposed to know? So you don't ask the question and think that you will figure it out later. What happens now, is that we rob ourselves and […]
READ MORE »
There are two key factors for the successful production of HDI PCBs: first, making the right choices at the design stage, and then carefully choosing the factory that can support the specific technical demands of the project. Chris Nuttall, Chief Operations officer at NCAB Group writes about this in the November issue of "The PCB Design Magazine".
READ MORE »
All our efforts are always focused on your production, and our Factory Management team will be manned during the whole Chinese New Year. But despite all the precautions we are taking, it could be good to think ahead and plan for the Chinese New Year to avoid disruption in your production.
READ MORE »