Sustainable business - our responsibility
Quality and environmental management has been important to the NCAB Group for many years. During 2014 we decided to start using ISO 26000, an international standard for social responsibility, to help guide us in our work going forward. The result is a strategy covering ethical, social and environmental dimensions, with clear priorities for a sustainable business.
Our sustainability strategy
The standard ISO 26000, which we have used as a basis for our sustainability strategy covers numerous aspects of sustainability. We have used the standard to identify the issues that are most important to NCAB, based on our impact, stakeholder expectations and the improvements we can achieve. It serves as a way of illustrating how our sustainability work strengthens these relationships. Our strategy specifies long-term goals, measurable goals, and focus areas, from which we set concrete actions.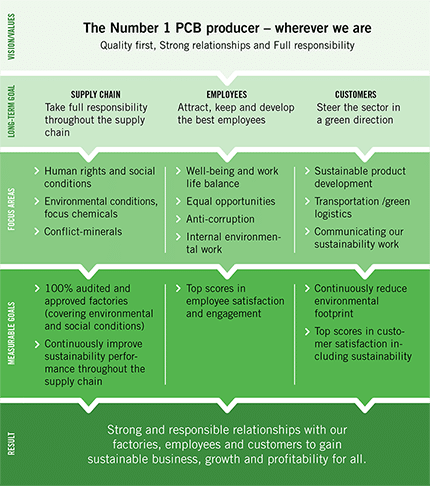 Supply chain: You can only have control on site
NCAB Group works closely with the factories that produce our PCBs. We believe that working in partnership is crucial to achieve high quality and sustainable products. All the factories we use for PCB production have been through our sourcing process where a potential factory is assessed from a quality and environmental perspective.
In addition the factory has to be certified to ISO 9001 (quality management system) and ISO 14001 (environmental management system), provide documentation regarding conflict minerals according to American legislation (Dodd-Frank Act), follow EU legislation regarding raw material content (RoHS and REACH) and comply with local regulations regarding water quality, emissions to water and waste handling. In addition, they have to sign our Code of Conduct.
LONG TERM GOAL
» Full responsibility throughout the supply chain.
MEASURABLE GOALS
» 100% audited and approved factories (covering environmental and social conditions).
» Continuously improve sustainability performance throughout the supply chain.
NCAB Group Code of conduct
During 2009 we implemented a Code of Conduct which forms part of the contracts we have with each of our factories. The requirements in the code are inspired by the ten principles of the UN Global Compact and cover:
Human rights

Labour practices

Child labour

Environmental management

Ethics

Intellectual property
NCAB expects all of our factories and employees to follow our Code of Conduct.
For more information, download the NCAB Group Code of Conduct. DOWNLOAD (PDF) »
Employees: Our most valuable asset
Our most valuable asset is our employees and we need to attract, keep and develop the best. To do this we have to maintain an open dialogue, providing the basis for good rapport between our co-workers, and a workplace where everyone develops, is engaged and takes pride in their work. Areas we work with are:
Value based leadership and innovation

Employee health and satisfaction

Training and competence development

Equal opportunities

Ethics

Anti-corruption
LONG TERM GOAL
» Attract, keep and develop the best people.
MEASURABLE GOALS
» Top scores in employee satisfaction and engagement.
For more information, download the NCAB Group Sustainability Report.

DOWNLOAD (PDF) »
Customers: Long term relationships – a sustainable approach
Our mission is to produce PCBs for demanding customers, on time with zero defects and at lowest possible total cost. Our approach includes long-term thinking and shows how cost, quality, reduced risk and environmental issues go hand in hand. In close cooperation with our customers we can develop sustainable products and together we can reduce our environmental footprint.
LONG TERM GOAL
» To steer the sector in a green direction
MEASURABLE GOALS
» Continuously reduce environmental footprint.
» Top scores in customer satisfaction including sustainability.
For more information, download the NCAB Group Sustainability Report.
DOWNLOAD (PDF) »