Quote
The NCAB Group purchase significant volumes from their factories which gives significant purchasing power when quoting for new business. All factories are independently owned and are selected according to "best fit" for certain technologies, volumes and lead-times.

Tommy Kallberg, Key Account Manager NCAB Group Sweden and Martin Magnusson, President NCAB Group USA.
Your quote is qualified
NCAB has developed a unique automated quote process in which our system, iQuote links with our PSL (Preferred Supplier List), to then generate a selection of quotes from our different factories in line with customer manufacturing specification, technology, volume and lead-time requirements. This, coupled with our knowledge and experience enables us to ensure that the most suitable factory is selected at the quotation stage.
Multi-sourcing
When selecting a factory at the quotation and sourcing stage, we can always offer you a number of choices which ensures competitive bidding as well as providing good benchmarking feedback. Where customers wish to de-risk and multi-source, we can share production between factories and even move production between factories at your request.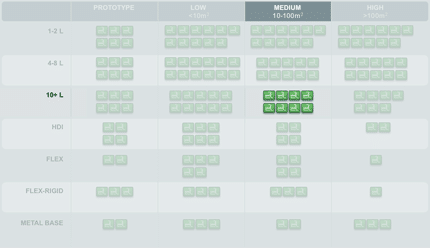 NCAB Group works with 22 quality assured factories, 17 in Asia and 5 in Europe and USA which ensures that we have at minimum, 2 factories that can manufacture any part. We have dedicated factories for prototypes, standard rigid PCBs, HDI PCB's, flex, flex-rigid and metal base PCBs.
For a quote, please contact your local NCAB Group company.