Seminars about the world of PCBs
The NCAB Group runs a variety of different seminars. The purpose of the seminars is to improve quality, reliability and cost by optimize the design to suit the production processes. All seminars can also be tailor-made to fit customer's particular needs.
For more information and to book a seminar please contact your local NCAB Group Key Account Manager or Customer Support.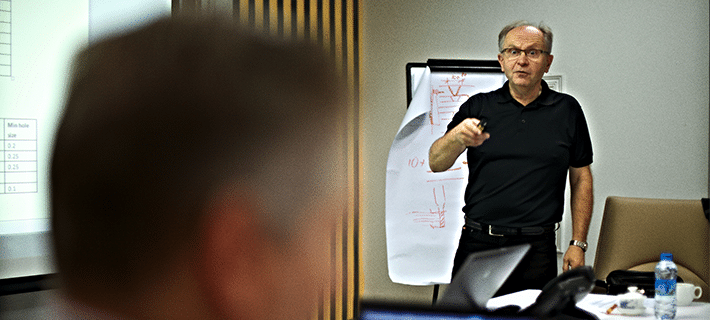 Timo Ranniko, Technical Manager NCAB Group Finland is holding a seminar during a customer visit in China.
The seminars we are running at the moment are:
Technical trends in the global PCB industry

A presentation of the technical challenges, expectations and trends going forward, and the driving forces behind technical developments.
How to produce a Printed Circuit Boards

An in-depth description on how to produce a standard PCB.
New technologies
A presentation of Embedded components. 3D"MID – 3 dimensional moulded interconnect devices.
Cost drivers in PCB production
We show what is generating the "cost" of the PCB. How designers can influence the cost? How to save money with maintained reliability!
Surface finishes
The pros and cons of the most common surface finishes. The seminar also covers handling and storage rules.
HDI - High Density Interconnect
What defines a HDI board, standards, design rules, driving forces for HDI. How do I get started with HDI?
IMS - Insulated Metal Substrate
Thermal management, how to calculate and design IMS boards. What alternatives are there to IMS boards?
Rigid-Flex
Instructions on how to design a correct build-up for maximum performance. What design rules are applicable? How can reliability be secured?
NCAB Group PCB Specification
NCAB explains why we have developed our own detailed specification and demands that we believe will help to improve both the quality and reliability of the PCB's that we provide.
Impedance controlled boards
What is impedance? Different types of impedance controlled tracks. How does the tolerances affect the impedance?
DFM - Design For Manufacturing

This seminar describes how to avoid costly production, problems with Gerber packages and why NCAB asks you so many technical questions!
IPC vs. Perfag
What do the different standards mean in reality? How do I use them? What is the difference between IPC and Perfag?
Reliability, IPC & NCAB
We examine in depth how to secure reliability at the lowest possible cost.
IPC class 3 – how to specify the boards?
Verification at product level vs. verification of process control. Presentation of the NCAB Group solution.
Material for lead-free production
We present our experiences of lead free production and identify the risks.
What do abbreviations like Td, Tg, CTE, CTI all mean? What is important for me as a designer? How to choose and specify the material.
Technical advice
We present and discuss risks associated with delaminating, laser marking, lead-free soldering, an unsuitable surface finish, a non adequate PCB specification etc.
NCAB Group Laboratory

What can be carried out in our Laboratory?
How do we carry out continuous technical improvements.