​Investing in sustainability and how to get started
Being responsible is the way to improve the state of environment and social well-being. It can also affect companies competitiveness and financial success. It brings benefits for risk management, cost savings, customer and supplier relationships, and human resource management. There's hardly anyone who could say that being responsible is not important!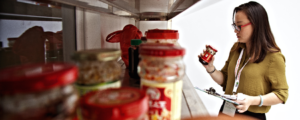 Since corporate social responsibility has become crucial to business it means that more and more people are aware of the topic and have different expectations on it. Therefore it's vital to integrate sustainability as a part of your business concept. There are many ways on how to get started and how to build a sustainable business. Communicating about sustainability is crucial, since it is only through working together with others that we can achieve sustainable progress. We want to encourage you to learn more about our achievements, challenges and opportunities in being a responsible and sustainable organization
Here are some points on how we have done it in the NCAB Group.
Get started – our first steps
Ensure that sustainability initiatives have the support from the board and management, and are part of their agenda
Allocate resources / competence
Clarify responsibilities and reporting structure
Create engagement in the organization – communicate and involve
Communicate the purpose and objectives
Set up a project plan
How to build sustainable business?
Establish a sustainability strategy, targets and plans
Incorporate the sustainability work in the management system

» Implement across the organization
» Controlled monitoring of plans and objectives, reporting
» Continuous improvements

Framework as guidance (ISO 26000, UN Global Compact)
Stakeholder dialogue – which areas will we focus on?
Allocate resources (internal/external)
Communication plan (internal/external)
Sustainability reporting based on GRI (Global Reporting Initiative)
How can it be governed?
ISO 26000 – international standard on social responsibility:

» Organizational governance
» Human rights
» Labour practices
» The environment
» Business ethics
» Customer and/or consumer issues
» Community involvement and development
Here you can find more information about our sustainability work. You can also read our Sustainability Report 2016. It is our third sustainability report and it covers our entire global business.

DOWNLOAD SUSTAINABILITY REPORT 2016 (PDF) »