NCAB Group has today acquired 100 per cent of the shares in sas – electronics GmbH based in Rohrbach north of Munich in Germany.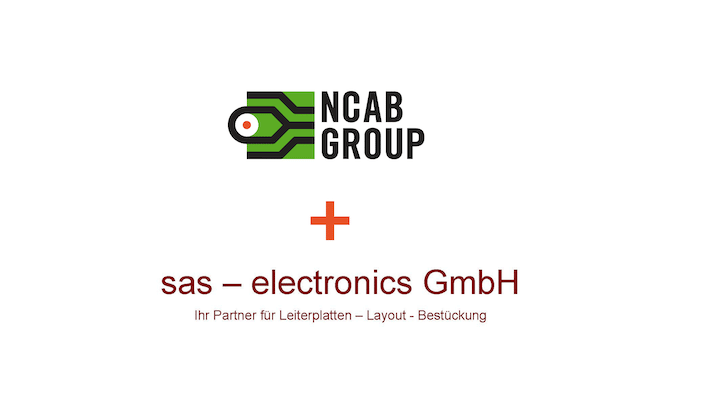 Sas–electronics is a family business which serves customers in Germany and Austria and had net sales of about SEK 30 million in 2020. The company is serving customers in the HMLV (High Mix Low Volume) segment, mainly in industrial and medical sectors and had an EBITA of SEK 4 million in 2020.
The company has 11 employees, 10 located in Germany and 1 in Taiwan. The acquisition will be accretive to earnings per share in NCAB Group in 2021. Synergies are expected in the areas of suppliers, payment terms and factory management.
Anders Forsén, CFO of NCAB:
"Sas-electronics is a small but well managed trader of high quality PCB:s and complements our German business very well. Germany is a large industrial country where we see potential through new skilled employees to grow and add new customers. It is an important component of NCAB's strategy to actively participate in the consolidation of the market. Sas-electronics will be integrated with NCAB Germany."
For further information, please contact:
Anders Forsén, CFO +46 8 4030 0051
Gunilla Öhman, IR, +46 70 7638125
E-mail: gunilla.ohman@ncabgroup.com
---
NCAB Group acquiert sas-electronics GmbH en Allemagne
NCAB Group a acquis aujourd'hui 100 pour cent des actions de sas-electronics GmbH basé à Rohrbach, au nord de Munich en Allemagne.
Sas-electronics est une entreprise familiale qui sert des clients en Allemagne et en Autriche, et a réalisé un chiffre d'affaires net d'environ 30 millions de SEK en 2020. La société est au service de clients du segment HMLV (High Mix Low Volume), principalement dans les secteurs industriel et médical, et avait un EBITA de 4 millions de SEK en 2020.
L'entreprise compte 11 employés, 10 basés en Allemagne et 1 à Taïwan. L'acquisition sera relutive au bénéfice par action de NCAB Group en 2021. Des synergies sont attendues dans les domaines des fournisseurs, et la gestion des usines.
Anders Forsén, Directeur Financier de NCAB Group :
« Sas-electronics est un petit trader bien géré de PCB de haute qualité qui complète très bien notre offre sur le marché allemand. L'Allemagne est un grand pays industriel où nous voyons du potentiel grâce à de nouveaux employés qualifiés pour croître et capter de nouveaux clients. C'est un élément important de la stratégie NCAB de participer activement à la consolidation du marché. Sas-electronics sera intégrée à NCAB Allemagne. »
Sebastian Schmeller, Directeur Général de sas-electronics :
« Depuis la fondation de l'entreprise en 1998, sas-electronics a servi des clients dans toute l'Europe avec une très haute qualité et un excellent service. L'acquisition par NCAB Group apporte un accès à des usines de PCB technologiquement excellentes et la possibilité de développer avec succès la coopération avec nos clients. Pour nos employés, je vois de grandes opportunités pour d'autres développement dans le futur. »
Pour plus d'informations, veuillez contacter :
Anders Forsén, Directeur Financier +46 8 4030 0051
Gunilla Öhman, Responsable Relation Investisseur +46 70 7638125
E-mail : gunilla.ohman@ncabgroup.co