These two types of codes look relatively similar – square or rectangular in overall shape – but they are in fact very different. The easiest way to notice this difference is to look for the larger squares at the corners – if there are squares in the code – it's a QR Code – whereas a Data Matrix Code is more uniform in its appearance.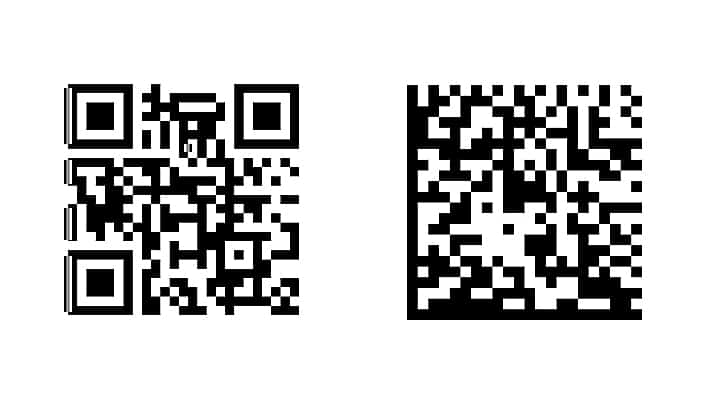 Technically, QR codes and Data Matrix codes are both 2D barcodes or '2D codes', and are both becoming much more commonly used by manufacturers. Unlike 1D barcodes that contain information in a linear format on, for example, retail items, 2D Codes contain information both horizontally and vertically allowing them to store much more data.
Specifically, Data Matrix codes are physically smaller than QR codes, offering high data density in a very small size, making them an ideal solution for marking PCBs where space might be limited. QR codes are often used to provide information while Data Matrix is more so used for traceability. If you'd like to try an exercise in comparison, try it with a prescription bottle. There should be both a QR code and a Data Matrix code, each containing different data.
Both Data Matrix – and QR codes are royalty free
Electronic Components Industry Association (ECIA) recommends using Data Matrix for labelling small electronic components. Data Matrix codes are also the only 2D codes approved by GS1 for regulated healthcare items. (GS1 is a Healthcare Standard framework established to standardize the identification of Healthcare products.) They are also the default code type for automotive and aerospace applications.
Both codes are public domain codes; this means that they are royalty free, so you don't need to pay for a license to use them.
Both code formats are defined and regulated by the International Organization for Standardization (ISO). Published specifications and print requirements for each code are available from ISO. If you want to understand more about how the codes work and how to create them, you can check out the relevant ISO standards for more detail; ISO/IEC 16022 for QR codes and ISO/IEC 18004 for Data Matrix. Note that most all smartphones QR codes are easily capable of being reading QR codes, but only some smartphones are capable of reading Data Matrix codes – many times a code reader app would need to be downloaded which are free and easily available.
Which 2D code is right for you?
NCAB Group provides Data Matrix Coding to encode more data than a traditional 1D barcode and can be used to provide additional information for internal traceability.
In practice, Data Matrix codes are most often used for internal product identification and anti-counterfeiting applications, while QR codes have become the standard format for most consumer-facing applications. A Data Matrix code will reference part number info, serial numbers and reference build up material.
Some typical applications for both codes are outlined in the table below.
Data Matrix code
QR code
– Supply chain traceability, including direct parts marking, such as with electronic components.
– Anti-counterfeiting through serialization, such as in pharmaceutical packaging

– Additional product information
– Usage instructions and recipes
– Social sharing
– Auto-linking for spares ordering and guarantee registration.
– Promotions, contests, and gamification
Many PCB factories offer QR coding while Data Matrix coding is not yet widely used, but its use is growing. If you'd like to learn more about PCB identification and/or serialization for your PCB application, contact your local NCAB Office and we can guide through this process.