NCAB Group USA's Quality Manager discusses PCB Cost Drivers at SMTA Space Coast Chapter Technical Luncheon
NCAB Group USA, is pleased to announce that its Quality Manager Holly Freve presented at the SMTA Space Coast Chapter September Technical Luncheon on Wednesday, Sept. 16, 2015 at Mack Technologies in Melbourne, FL.
Ms. Freve presented "Cost drivers in PCB production." She offered an in depth discussion about board size, layer count, copper weight, manufacturing yield, and more factors that drive costs in PCB production.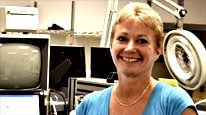 Ms. Freve has 26 years of quality and customer service experience in the circuit board industry. She began her circuit board industry career back in 1989 as a quality engineer for Micofab in Amesbury, Mass., working in the inspection and testing area. Her next position was at EMC, also in Amesbury, Mass., where she worked in a variety of positions in both quality and production engineering.
Freve joined PD Circuits in 2005 as part of the quality assurance management team, focusing on customer quality issues and resolution. PD Circuits was acquired by NCAB in 2012. Ms. Freve is now the Quality Manager for NCAB Group USA, responsible for the continuous improvement of quality and service to all NCAB customers. She is a certified IPC –A- 600H inspector and recently received her Six Sigma Green belt.
Our latest news
Have you ever had a question at a meeting, but you look around the room and none of your colleagues seem to be asking it – maybe you're supposed to know? So you don't ask the question and think that you will figure it out later. What happens now, is that we rob ourselves and […]
READ MORE »
There are two key factors for the successful production of HDI PCBs: first, making the right choices at the design stage, and then carefully choosing the factory that can support the specific technical demands of the project. Chris Nuttall, Chief Operations officer at NCAB Group writes about this in the November issue of "The PCB Design Magazine".
READ MORE »
All our efforts are always focused on your production, and our Factory Management team will be manned during the whole Chinese New Year. But despite all the precautions we are taking, it could be good to think ahead and plan for the Chinese New Year to avoid disruption in your production.
READ MORE »