PCB Design Support
Nothing affects the PCB's cost and quality as much as the initial design. All local NCAB Group customer teams include dedicated specialists who want to understand your requirements and products.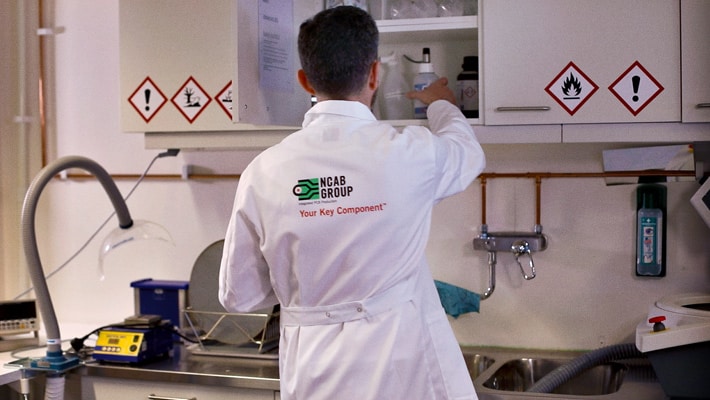 Our technicians are experienced in PCB production and work daily with Gerber files and customer-specific solutions. At the image Chris Nuttall, Chief Operation Officer NCAB Group is working in the NCAB lab.
Time- and cost-saving design support
Our technicians have the experience to advise on product & technology cost factors and provide rapid feedback on design solutions, build-ups, material selection, design rules, manufacturability, cost of different solutions, use of micro vias, gold plating, special laminates, etc.
We can reduce your design lead times through rapid engagement by our country based technical teams with you by phone, email or on site meetings. Working in common time zones and language makes it easier for us to provide real-time and in-depth support to assist you in cost effectively, helping you take your products from conceptual design through to volume production.

PCB Design support with volume delivery in mind
Our design support teams are close by and pride themselves on providing fast and accurate feedback. They can advise on value engineering and cost down initiatives which are aimed at helping you achieve the best possible design or even redesign for cost effective PCB production from prototypes through to volume production.
Our technicians are experienced in PCB production. We work daily with Gerber files and customer-specific solutions; all the technicians have many years' experience of PCB production, specifically, how to produce PCBs at the lowest possible cost without compromising your design goals. This service works equally well with either OEM or EMS customers and quite often, jointly.
All our expertise at your disposal
With an average of 68 new designs being tooled every day, for 2018, we made more than 15 500 new part numbers, and since our start up, we calculate that we have manufactured more than 149 500 unique PCB part numbers.
We combine local knowledge of your product with our broad experience from all market sectors, our technican teams experienced in all PCB technogies from basic single sided through to complex HDI and beyond. Our 35 technicians within the group meet regularly to exchange ideas, knowledge and information that many of our customers benefit from.
All Design Rule Checks (DRC) and Design For Manufacture (DFM) rules are processed by our local technicians using CAM350, Genesis, Speedstack and Polar platforms. This enables us to respond rapidly and accurately to Engineering Questions (EQs) , which minimises errors, improves lead times and supports quicker Time to Market for our customers.